Here are a few things I bought today at Amoeba Records on Haight Street (San Francisco):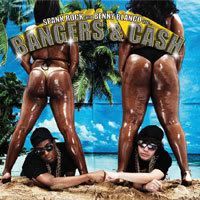 Spank Rock & Benny Blanco


Bangers & Cash
Price: $4.98
Yes, I know a lot of the tracks were available for free on Spank Rock's myspace about a month ago, but I'm not much of an economist. "Shake That" and "Loose" were fun 2 Live Crew interpretations and damn, it's only $4.98 for better audio and hot cover artwork. All 5 tracks are ridiculously trashy, and it'll keep me running (and giggling) at the gym.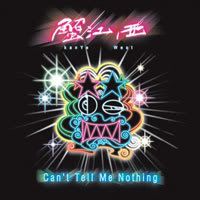 Kanye West


Can't Tell Me Nothing
Price: $5.98
This is Kanye's pre-

Graduation

mix tape. He raps over "Young Folks" and "The Eraser" (Thom Yorke's song that I talked about last week), babbles about porn

, Rolling Stone

and politics. There's also Kid Sister's "Pro Nails," which I really love. It's a very engaging listen. He has another official mix tape that was released last week. You can get it free at Kanye Talk.



Clipse


We Got It For Cheap Vol. 2
Price: $5.98
This came out a few years ago, but I was inspired to pick it up today since

Hell Hath No Fury

still gets played regularly. They put a really excellent live show in September, and definitely value and acknowledge their fans more than any artist I've seen live in a while. I'm looking forward to putting this on.

Devendra Banhart


Smokey Rolls Down Thunder Canyon
Price: $13.98
I'm still an avid folk music listener. I wasn't totally looking forward to a new release by Devendra, mostly because his albums are very long and take time to digest (time that I was saving for a later date). Still, I will always buy anything he releases, mostly because he's charming, a great musician and unlike any other artist around right now. Oddly enough, I was reminded of him when I saw his Annie Leibovitz photo in this month's

Vanity Fair

. It was either this album, or the Jens Lekman's

Night Falls Over Kortedala

, but I decided I could wait on the Lekman album.