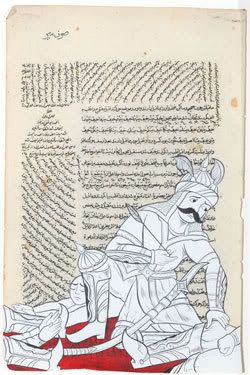 I've been very busy with work lately. I've mostly been trying to unwind as best as I can in the evenings, which usually means messing around with drums or catching up on some reading.

This weekend, I saw Ala Ebtekar's exhibit at Gallery Paule Anglim. He's an Iranian-American painter who does whimsical illustrations over pages from prayer books he gathered on a visit to Tehran.

Besides the obvious depiction of war bloodbaths in his "Morning Breeze" series (left), I really liked how I was able to come up with my own story on how the lives of the illustrations unfolded. The beautiful calligraphy on the book pages lends itself to endless amount of imagination.


Ebtekar's "Ascension" paintings are also really unique. This powerful horsewoman (above) has ambivalent Iranian eyes when she's surrounded by bombs or body-less angels. I can see how she feels.

The show runs until Saturday. Check it out. You can also see his artist profile video on SPARK.

My sister was the one that gave me the heads-up about the Ebtekar show. She's back from a trip to Iran with my mom. She brought back some amazing photos, which is a huge feat -- she's definitely not considered the creative one in the family.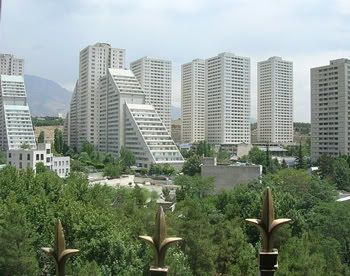 This building is outside my auntie's apartment. I have no clue as to what neighborhood in Tehran this is, but the architecture is gorgeous. I love the step-ladder feel and the very precise window patterns on the buildings surrounding the area. I am not an architecture nut, but seeing how people live and work is something I enjoy.