On my short (20 minute max) commute to work these past 2 weeks, I've been popping in Cut Copy's

In Ghost Colours

album and I am in complete heaven. It's an amazing album to start the day. That IS the power of music -- just one more thing to be excited about in the morning.

I've been listening to "Hearts on Fire" for what feels like a year now and "Lights and Music" has been saturated in my brain. The album mixes are longer and I'm falling in love with them again.

The real surprise is the incredible "Strangers In The Wind." It's a beautiful marriage of Fleetwood Mac's melancholia with mid-80's synthpop balladry. It was telling that they put

Tusk

-era Mac on their So Cosmic mix -- I just never thought it would take shape on their actual album. So haunted, indeed.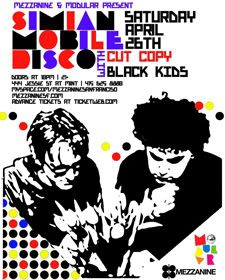 I've been hearing

In Ghost Colours

play at my local coffee shop. I've been hearing it through car windows (my apartment is on a deceptively loud street corner). And I've been seeing posters advertised everywhere for their show at Mezzanine this Saturday. This sold-out, dream team bill also features Simian Mobile Disco, and I will be fortunate enough to attend.

Check out their label Modular Recording's website, which has a curious display of
"gay vague"
Web 2.0 design.