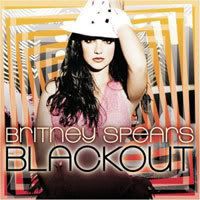 I've been listening to the new Britney Spears album this weekend. Where should I start? How about the fact that I've never owned or listened to any of her previous albums. Not even on a guilty pleasure level.

Musically, she has always been on my shit list, mostly because her singles are usually pretty mundane, especially compared to her two main contemporaries (Timberlake and Aguilera) who seem to have a genuine interest in broadening their musical scope.
I know just as much about her as every other pop culture enthusiast.

I liked the first single, "Gimme More." Despite all the shit that's reported about her, I've always wanted to give her the benefit of the doubt, mostly because of my skeptical view on entertainment news media. Even Billy Joe is backing her up! I was going to get it the week it came out, but I passed after listening to this ridiculous interview the day after it dropped.

I got it this weekend (Virgin Records, San Francisco, $12.99) after listening to a few tracks online and really enjoying what I heard.



Blackout

is a very unique and pleasing electro pop album full of singles with great hooks and a sound that's thankfully not outdated. The producers, from Bloodshy & Avant to T-Pain and Nate "Danja" Hills, were rumored to have saved their hottest tracks for her and described her as being professional in the studio.

It means a lot that some of the biggest producers in pop came together to save this woman's career, and to obviously rely on her to promote their own talents. For once, it

is

about the music, and the songs are really outstanding.

My favorite tracks by far are "Break The Ice," "Freakshow" and "Radar" -- all of which can become huge hits for her. It took a few years to put this together and with the tight 12-track selection (and a handful of equally amazing unreleased tracks floating around), you can tell everyone gave their all, at least in the studio, to put these songs together.

Listen to "Sugarfall," an unreleased song and possible Neptunes production that was not included on

Blackout

. It's slightly less upbeat than everything else on the album, which is my guess why it wasn't included, but the hook is terrific. There must be dozens of studio gems like this that were ditched in favor of the 12. She was not lazy during the production of this album.

Back to the KIIS-FM interview, it's really awful that she's not promoting what could be her breakout album, an album that could attract the same Misshapes hipsters who restored Madonna's supremacy during

Confessions On A Dance Floor

. You got Robyn doing backup up "Piece of Me," a "Konichiwa Bitches"/"Hollaback Girl"-style rap on "Freakshow," and production not unlike The Knife's

Deep Cuts

.

Unfortunately, the cover art and typography is ugly. The photos inside are depressing. There are no acknowledgements or thank yous. 'B. Spears' is only on two song credits, plus an executive producer credit. Her voice is extremely processed. Her website isn't updated, which is shocking for an artist of this stature.

In some way, the album experience is a downer, like listening to Nirvana's

Unplugged

, only because it feels like the person singing doesn't exist anymore. The songs aren't given the momentum they deserve.

In any case, she's alive and they music really is good.
Plus, she's at the age Madonna was at the

start

of her career.
Maybe she'll be this generation's freaky Michael Jackson or troubled Judy Garland .. or ________________?