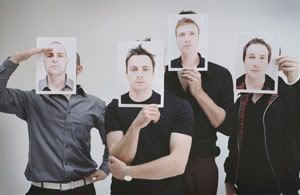 I love how Yep Roc Records artist's page for Bell X1 starts with "If you lived in Ireland, this bio wouldn't be necessary."

From what I understand, Bell X1 must be huge in Ireland. They came to my attention after listening to the Cut Copy mix

So Cosmic

, and hearing this incredible track very reminiscent of

Speaking in Tongues

period Talking Heads (which is my favorite TH album, btw).

The track is called "Flame" and apparently it's been out since early 2006! Fortunately (or strangely), the

Flock

album it was originally released on in Europe is finally being released this Tuesday on Yep Roc.


The rest of their music has a grand, sentimental pop sound a la Coldplay, U2 and early Radiohead.
Not usually my cup of tea, but I'm digging the "Flame." They're on a U.S. tour right now, and I'm thinking about catching them at Cafe Du Nord in March.

If you want a real treat, go to Pitchfork's Forkast page to download "Flame (Chicken Lips Mix)," which is the remix that's on the

So Cosmic

mix. It completely maximizes the white funk of the original.



I got a cyst on my lower back lanced on Friday, which is going to keep me from doing anything active for a few weeks. Sucks for me, because I really miss going out dancing and I hadn't been doing it in ages.

This afternoon, I found this awesome video of people dancing to Kano's "I'm Ready" on a Soul Train style Detroit TV show in the 80's. It cheered me up quite a bit.