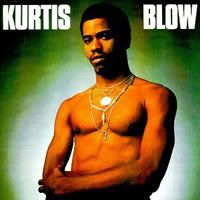 I've been listening a lot lately to Kurtis Blow's debut album. I got Spank Rock's
Fabriclive.33
over a month ago, and was inspired to purchase the Kurtis Blow record solely on hearing the entire 7:41 minute version of "The Breaks" -- the Spank Rock mix gives us less than two minutes.
It's enjoyable, classic and bizarre. There's Kurtis rapping about hard times "spreading just like the flu, you know I caught it just like you", plus his really strange cover of "Takin' Care of Business", and the disco fun of "Christmas Rappin'", which sounds a whole lot like "Rapper's Delight."
The thing I like most about the record (and you might find this odd) is the really great backing band. Something sounded familiar about the "The Breaks," and it wasn't until I heard the bonus instrumental track of the song that I put it together. It sounds like Johnny Marr's template for "Oscillate Wildly" or "Heaven Knows I'm Miserable Now" or -- you name any Smiths song with funky chords and a shimmery chorus effect.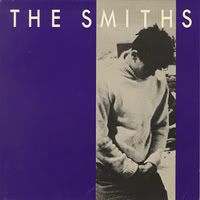 I once read Marr was very much influenced by Chic, the Nile Rodgers sound, and funk/disco guitar playing. In a time when Marr is playing with Modest Mouse (they were my favorite circa 1999-2001) as if he barely exists, it's quite an experience to hear the instrumental version of "The Breaks," imagining Morrissey singing his heart out in a "Barbarism Begins At Home" kind of way. The guitar player on a lot of the Kurtis album is John Tropea, who I will look into.
In any case, I'm a complete amateur when it comes to old school hip-hop. Besides the sampling and the shout-outs contemporary hip-hop/rap artists use in their cuts, it's been hard for me to get turned on to it -- and that's not because I don't like it, it's because I forget that it exists. I don't know anyone who actually grew up to this stuff, or worships it or collects it or wants to tell me about it. It also seems of the artists in this genre, from Grandmaster Flash. Run-D.M.C. or The Sugarhill Gang, are missing the kind of cultural ubiquity you'd find from artists listed in a typical karaoke book. It appears time has been much more generous to punk -- a genre that emerged near the end of the same decade -- than to old school hip-hop. Perhaps this will change.
The last time I got into a old-school hip-hop/rap artist was when I walked into a shoe store on Haight Street last summer. I heard this simple drumbeat, a spacey vintage synthesizer and sound advice about how "it's all over when you hit that pipe." I memorized some words, and discovered Too $hort's "Girl" from 1983. It's still one of my favorites. I've enjoyed what I've clumsily discovered, and with my New York state of mind, I have a feeling this is going to be my year for old school hip-hop.