Maximo Park will forever be the band th
at I was introduced to throu
gh
my younger brother. I
got

A Certain Trigger

two years ago for Christma
s with the same enthusiasm one finds when receiving a sweater for a gift. I don't like albums as gifts unless someone has a very g
ood idea that t
he music would interest me. Unfortunately, my younger brother is not one of those people. I'm not sure how, but sometime in the early 2000's, I kind of lost hope for modern British rock bands. But it was
Christmas, and I love music, and I told my brother I'd certainly give it a listen.

And what a total surprise:

A Certain Trigger

ended up being one of my favorite records of 2005, an album of aggressive, melodic rock with sharp guitars, and a very charming singer named Paul Smith. Unabashedly British (no American accents, thank goodness), and wearing early Paul Weller on his sleeve without being derivative, Smith's direct, non sequitur phrases and expressive voice were the perfect match for music which veered from post-punk, to power pop and everything in
between.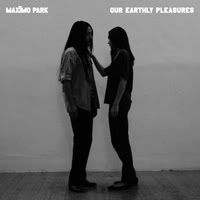 Th
ey
h
ave a ne
w album,

Our E
arthly Pleasures

, which has a more crisp-sounding production
from Gil
Norton (The Pixies,

Doolittle

) and more of what made

A Certain T
rigger

, and the following b-sides collection,

Missing Songs

, so excellent.

"By The Monument", a jangly, radio-friendly rocker has become a regular on repeat for me. On the first
record, Smith sang "I'll do
graffiti if you sing to me in French," and on the new one he's "defacing pictures of famous people on the train" .. it's an entertaining notion for a classically British singer to be vandalizing buildings in London Town, a la Banksy.

It would be difficult to be Paul Smith's ex-love. He can be very direct and I would imagine the perso
ns he's singing about know it's them. Unless he's just being very creative, and I haven't picked up no the poetic license thing.

The first two singles out now "Our Velocity" and "Books From Boxes" are powerful and good contrast between the types of songs that are on the new record. The music is energetic, aggressive, with a great rhythm section and Smith's confident singing. Everything about the new record is refreshing.

I haven't been this excited about a British band since Franz Ferdinand released their debut. Franz's follow-up was a massive let down, but

Maximo Park

show that there is a light for new British rock. Then again, "new rave" bands like the Klaxons might overshadow the British indie bands trying to come over from across the pond.

For the San Francisco folks, Maximo Park is playing at Popscene on July 26. I'm an idiot and didn't know about pre-sale tickets from their website, which are no longer available. I'm going to do my best to make it .. but why Popscene, and not Slim's or The Fillmore? I guess that's the question for every new band that you think is huge, or will be huge soon.