There's a new Chromeo album out called

Fancy Footwork

. It's more of the same nostalgic electro that made their first record so great, except there's less hip-hop and more dance pop.

She's In Control

had a lot of filler, but it was a perfect party record and surprisingly addictive.

This new one really feels like a team effort. Chromeo is Canadian duo Pee Thug and Dave 1, "the only successful Arab/Jew partnership since the dawn of human culture" so they claim. It's definitely more of a structured pop album with less of the instrumentals that loaded

She's In Control

.

When I listen to Chromeo, I think of it as stock soundtrack music for low-budget 80's flicks. If there's a scene where characters are dressing up, or they're at a club, or they're opening their high school locker or whatever, Chromeo would cue in. The good news is that they're in on the fun, their music is always fun to dance to, and they're good at the player-as-victim perspective in their lyrics.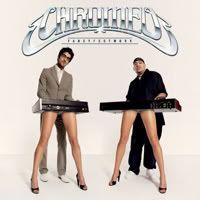 I've been listening to

Fancy Footwork

for a couple weeks, and although I don't dig it as much as the first album, there are some good tracks. I like "Bonafied Lovin" with its wailing guitar and clunky beats. "Opening Up" could have been a hit for someone like Debbie Gibson or Paula Abdul during their breakout years. It's got lots of "yeah yeah yeah yeahs," funky oscillating keys and a whole lotta bounce. The best part is these guys get away with this stuff without any irony.

The title track is certainly fun and has

Napolean Dynamite

-style imagery to it. It loses its luster after a few listens, but I admire their musicianship. They love the music they play, even if it doesn't always work. You can listen to it here.

"100%" is the last track on the record and my favorite. It starts off sounding a little like Madonna's "Holiday" but then becomes something smooth and sleek. It's the sexiest track they've ever recorded and the most "real" to me, which is not necessarily
something that I
look for from Chromeo.

For San Francisco folks, Chromeo is playing a show at Mezzanine on Monday, July 23. Flosstradamus is also playing and the boys from Frisco Disco will perform a DJ set. You can get in free if you RSVP.

If you're new to Chromeo, I would suggest checking out the Bloc Party remix of "Needy Girl" on the Vice Records site. This excellent remix is really what turned me on to this band. Maybe I'll see you at the show?