Kavinsky died in 1986 when his Ferrari mysteriously went over a cliff. Twenty years later, he's back as a zombie ready to get revenge. That's the story as so far.

If you played arcade games in the 80's, this French artist mimics a lot of the noir-ish theme songs of those favorites. There's a nightmarish, L.A. apocalypse quality to his sound. These days, Kavinsky takes advantage of better technology; the bass is thicker, the beats are bigger.

The reviews have not been very generous to Kavinsky, I think mostly because his music might appear to be so overtly referential. But I like it. It reminds me of being 10, a time when wearing big sunglasses and getting to the next video game round at the Round Table Pizza arcade made me feel instantly cool.

The NY Times ran an article two weekends ago about how the new school of French electronic music has more in common with fist-pumping rock than ambient music for "genteel soundtracks" and "design-conscious restaurants." They cite Daft Punk as the forefathers of this revival, which I agree with. Although I haven't seen him perform live (he's actually on tour with Daft Punk right now), Kavinsky uses the Daft Punk image/sound/performance template to produce an interesting backstory.


Other bands in this French revival include Justice, who I haven't really gotten into. "D.A.N.C.E." got old really fast for me, and I haven't liked any of their remixes. I'm hoping their album will have some good surprises. There's also Simian Mobile Disco, who I've enjoyed a lot of their remixes, but haven't heard much of their own music.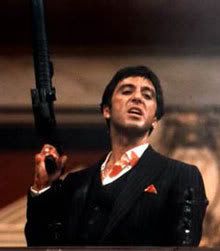 My favorite Kavinsky track is this incredible bootleg remix by A-Trak. It's got police sirens, Scarface samples and M.I.A.'s vocals from "XR2." It's perfect. Talking about being 10 years old, Scarface totally reminds me of my uncle, who's "hey mang" I can still hear. Pacino might have been Cuban in the film, but he was definitely Iranian to all the mafioso-wannabee Iranians. I guess that's why "The World Is Yours" is still inspiring to so many minorities.

Kavinsky's EPs appear to be out of print, but you can buy them on iTunes here. Also, I just purchased the "Kavinsky vs. M.I.A." remix from A-Trak "Dirty South Dance" bootleg. You can buy it here.