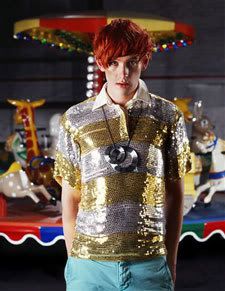 Patrick Wolf is someone I never wanted to like. At 23,
he's got a few albums under his belt, worshiped as a child prodigy and considered to be the second coming of David Bowie.
His shaggy, preschooler haircut bothers me, as does his campy fashion sense.

I must admit I didn't actually listen to his music until I saw the video for "Bluebells," the first single off his new album,

The Magic Position

. With a beautiful piano melody and tasteful firecracker samples, the song had a pretty big impact on me.

The album is pretty tremendous as well. I'm not going to go into a song-by-song highlight -- there are so many good ones -- but I will say "Augustine" is one of the most beautiful ballads I've heard in a long time. I'm constantly playing it.

In this video, he plays "Augustine" on what appears to be a baritone ukulele. The interview is kinda cute as well. Patrick seems like a cool guy and not as self-important as I had imagined. This performance is interesting, but you must hear the original. Also, checkout the new video for the title track. It's classic British pop, a la Dexy's Midnight Runners.


I'm going to take a little break from writing exclusively about music. I'm finding my fiendish need for new music is becoming a bit escapist for my own creative goals. We'll see how long this lasts!

I'm starting the recording process for the songs I've written in the last eight months. It begins with beat making and sample tweeking. I'm pretty excited about it.

Also, my dear friend Susanna, who sadly ran away to Canada last year
with a boy I never met,
is sending me vocal recordings for songs she's written. She has a great voice.
I'm planning on writing music for this project.
It's been a challenge so far, and I'm hoping to get more ideas down when I'm back in the saddle. My technical know-how definitely needs an update.