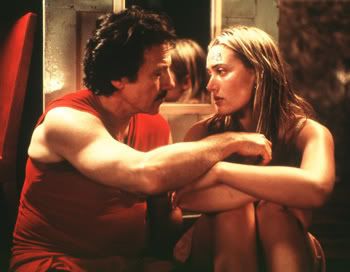 It was a beautiful weekend in San Francisco. I took care of some odds and ends, went out to see

The Invasion

with a friend, and visited the family in the East Bay.

While

The Invasion

was entertaining (and somewhat ho-hum), I saw a more engaging Greencine film the following day: Jane Campion's Holy Smoke!

I love the hilarious IMDB tag lines for this film: "Sex captive in desert hideaway...young beauty seduced by macho American twice her age"; "He had only one thing on his mind... but so did she!" This makes me think ... is Harvey Keitel the reigning king of pulp?

It's really the story of a young woman (Kate Winslet) who goes to India for a spiritual awakening, but is forced back to her home in Australia by her parents who think she's joined a cult. They hire a cult exit counselor (Harvey Keitel) to bring her back to "reality." It ends up becoming a story about sexual awakenings, gender politics and control.



My absolute favorite part is when Keitel (dressed in drag, face smeared with red lipstick, lying helpless in the desert) hallucinates and envisions Kate Winslet as Shiva or some other supreme Hindu deity. All this is happening while The Shirelle's "Baby It's You" is playing. I loved it!

Jane Campion makes thoughtful, stylish, beautiful films.

Holy Smoke!

is fairly ridiculous, but it's also incredibly mesmerizing. She followed this up with

In The Cut

, which had a lot of noir/pulp elements.

Holy Smoke!

came out in 1999 .. check it out!