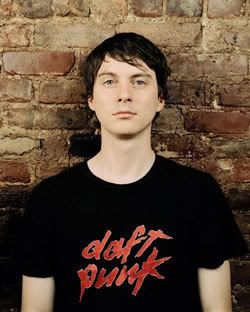 Animal Collective member Panda Bear's
Person Pitch

album has been one of my top listens this year. A filmmaker named Mike (I couldn't find his last name) documented his three only shows in the U.S. earlier this year, and put them on a DVD called

People Party

. At first, the DVD was unbelievably offered for free. Naturally, the popularity of the deal got way out of hand, and now you can pay a measly $5 for a multimedia experience. I went for the $13 package, which comes with recordings of all live shows. You can learn more about it
here
.
I purchased a ticket today to see Animal Collective on Sept. 17 at The Fillmore. They're one of my favorite bands, and I've loved their live shows. I'm really looking forward to the new album.
* * *


I know I write a lot about M.I.A. She has an album coming out in a few weeks and I just really admire her. She has a new video for "Jimmy," which is a re-imagining of a disco song from a Bollywood film called

Disco Dancer

.

The music has sweeping Euro disco strings, and a melody a bit like ABBA's "Gimmie Gimmie Gimmie." The whole video production brings to mind the music videos I grew up watching on Nima TV on Sunday afternoons. This song has massive remix potential.


* * *


Sunday's travel section of the

New York Times

did a feature on my neighborhood. They call it the NOPA district, which still bothers me -- it will always just be "the panhandle." It's kinda strange to see everything all mapped out. Where I live feels like home, and not "a kind of cultural bridge between hippie Haight Street and the rest of the city." The round-up of stores around Divisadero is fairly accurate, except for a few cringe-worthy moments: on Cookin' Recycled: "a glorified antiques store that is just outside Nopa (but with a Nopa feel)."

It's completely ridiculous that they didn't mention Club Waziema. Maybe because the Times thought it was in Nopa (but without a Nopa feel)?