swoon...
Kanye West, is like, so incredible. I've been listening to "Stronger" for a few weeks now, and everything about is just so right.


French dance is the hottest shit in the world right now, and Kanye, never one to be outdone, perfectly samples Daft Punk's "Harder, Faster, Better, Stronger." Of course, it ain't the original, but he knows that and rephrases a classic Nietzsche quote for a hook. Rhyming "since Prince was on Apollonia/since OJ had Isotoners" is kind of silly, but I think that's the idea. Musically, it builds up sounding a bit like Beyonce's "Crazy in Love," a calculated summertime jam.

For anime geeks, Kanye does his best Tetsuo from

Akira

in the stylish music video. Daft Punk is in it too, and the futuristic visuals are great. It's so Neo-Tokyo .. or

The Fast and Furious: Tokyo Drift

.. but let's leave it at that.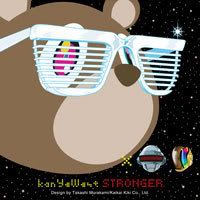 And then comes the cover. Oh my god! Artwork by Takashi Murakami!
Leader of contemporary Japanese art!
King of the Superflat! Emperor of ultra-luxurious Louis Vuitton monogrammed accessories! Daft Punk is even on the cover, as is Kayne's iconographic bear wearing Jeremy Scott sunglasses. And this is hip-hop!


"Stronger" is a work of globally influenced pop art. He (and his producers) deserve a lot of credit for this. I hope it doesn't flop.