I turned 28 today. I spent it wandering around the Ferry Plaza with my mom and sister. I got a 12" record from my brother, Bloc Party's "Flux" single with a remix of "Where Is Home?" by Burial. I'm not a fan of dub step, but definitely curious to hear what it sounds like.

The photo is of me and my cousin's dog Mooshie on Christmas Day a few weeks ago. Mooshie means 'like a mouse' in Farsi. Yikes! My eyebrows look pretty sinister.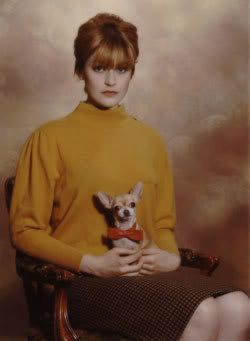 I've been really into El Perro Del Mar's debut album from over a year ago. It's melancholic yet hopeful. Lines like "God knows, I've been taken a lot without giving back" and "You've got to give to get" are so simple and beautiful. It doesn't drive me nuts that she repeats them for a good 3+ minutes. There's a sense of catharsis when you repeat phrases that you should follow, but somehow still neglect.

She has a new album coming out at the end of February, and I'm glad I had time to catch up on her debut. It's the perfect soundtrack for these crazy January storms we're getting in California.