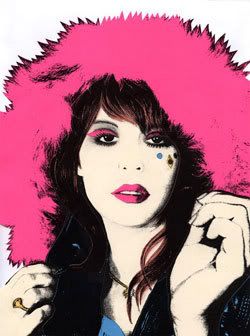 It kinda seems like everyone's most anticipated albums came out last year. So what's there to look forward to? Here's a couple ..

Glass Candy is my favorite band of the past few weeks. I got into them after reading Fluxblog's great write up on "Beatific," which is one of the best electro tracks I've heard in a while. It's a little bit of "Into The Groove," a bit of Blondie's "Rapture" and a dash of PJ Harvey's "Down By The Water."

Ida No has an amazing vocal presence. She takes you back to a different time. Johnny Jewel works those vintage synthesizers like you wouldn't believe. This is glam electro at its best.
And to think they're from Portland!
I purchased their

B/E/A/T/B/O/X

album and the

After Dark

compilation at Amoeba Records two weeks ago, which was kind of miraculous because I thought these albums were both available on their tour only.

All these great tracks from Glass Candy, and their official album is still to be released this year.

Also, Cut Copy, the Australian electro rock band which released one of my favorite tracks from last year, "Hearts on Fire," is set to release their new album

In Ghost Colours.

They have a video for their new single "Lights and Music" which is wonderfully produced by DFA and just as addictive as "Hearts on Fire."

I think Cut Copy foreshadowed the revival of 90's house from last year. They sound a bit like New Order and Bernard Sumner and Johnny Marr's Electronic project. You can download Cut Copy's free new mixtape So Cosmic, which includes a bunch of their new tracks, at their website.

I've also been listening to DFA Record's reissue of Pylon's

Gyrate Plus

, which has left a bad note in my ears since I got into a minor car accident on the freeway while it was playing.

There's a great Britney Spears bonus track called "Outta This World" which is much better in its demo version than the official Target special edition version of

Blackout

.

Did you know Britney Spears did a track with DFA? It's not bad .. but it's not good either. In case you're wondering, cowbells are included.