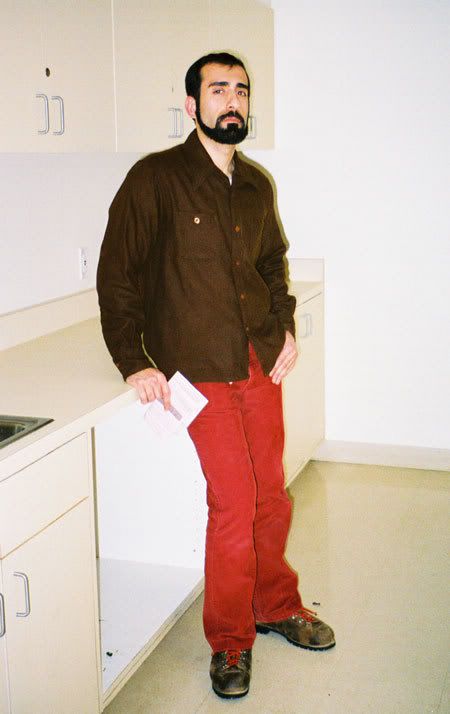 Very Juergen Teller, no? Last Sunday I was fortunate enough to be a paid extra in

MILK

, the Gus Van Sant biopic on Harvey Milk.

I got cast as a 70's Teamster in a scene where Milk (played by Sean Penn) persuades the local union to support him. There was about a four or five hour wait before our scene started filming, and I kept asking myself, "What the hell am I doing here?"

I talked to a bunch of friendly extras, like Palmer Lamb (above), who took the photo of me. It was a pretty cool bunch of guys, and wardrobe was amazing. I had a 70's fashion phase in college, so the whole visual experience was hyperreal eye candy.

When filming started, and I was about 15 feet away from Sean Penn, one of today's greatest living actors,

doing his thing

, I realized it was all worth it. I'm not sure if I was in the camera angle, but whatever.

At least five people asked me if my beard was real or applique. Sorry, bitches, it's 100% pure Iranian facial hair. Thick and with no graying yet! I would imagine this a major reason why I got the callback to be an extra.