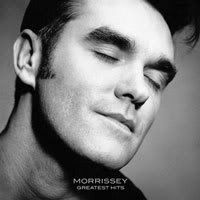 Even though Morrissey's

Greatest Hits

album is fan exploitation of Bjorkian proportions, there are a few things I've enjoyed about its release.

The two new songs "That's How People Grow Up" and "All You Need is Me" are pretty good. The former is definitely a show stopper during his live sets. Something about the song sounds a bit forced, especially when you hear how natural "Everyday is Like Sunday" comes off.
Still it's nice to hear how big, sweeping and dramatic the studio version becomes.

"All You Need is Me" sounds a lot like

Bona Drag

's "Disappointed," and there's a beautiful vocal melody bit around 2:34 when he sings "You don't like me, but you love me, either way you're wrong." It also sounds like he's double tracking his vocals on parts of this song. Is this the first time he's done that? I like it.

The packaging is very nice. I like the the little icons created to represent each song, which are then patterned throughout. It's printed on heavy card stock and I think it's one of the best Morrissey album packages.

Still, there's no doubt this collection is a complete act of pop star narcissism. The cover photo and photo of his bare ass on the album sleeve
are at least 15 years old -- never mind that the majority of the songs are from his last two albums.

But you definitely get the feeling that he put this together, and that these are his personal greatest hits. These are the songs he's most proud of and that's probably what makes it interesting for any fan.

There's also an insert that says "Coming Soon. A very special Morrissey release" that will be made to order and not available in stores. What could this possible be? I hope it's not these new t-shirts.