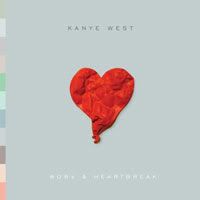 It's not quite

Pornography

, but it's pretty bleak. What I like most about Kanye West's

808s & Heartbreak

is how honest and musically consistent it is.

I was expecting a softer sound, a more melancholy perspective on the tragic death of his mother. There is some of that in there, but it's also angry, with lots of self-reflection and frustrations over a lover or girlfriend. He's the boy done wrong.

It gets musically lighthearted 3/4's into the album ("Paranoid," "RoboCop"), but the subject matter remains dark throughout and the majority of the album is under-produced and bare bones.

My favorite track by far is the last one, "Coldest Winter." Notice the rhythmically strange synth melody that doesn't quite sync up with the drums. It's these touches that give the album its shivering effect.
Speaking of The Cure, "Coldest Winter" could be a

Japanese Whispers

b-side.

I love the album's art direction as well. Say what you will about his arrogance and attitude, Kanye's creativity certainly delivers the goods.