Did you know July is
Blondie and Deborah Harry Month? I actually thought it was June, which explains the idea for this post and why it took me a good 5-8 minutes to find anything about it on Google.

The month was registered by a fan in 2003, and apparently, it's not that hard to do, although now you can think big: it's no longer the National Special Events Registry, it's the

International

Special Events Registry, organized by John Kremer, author of "Celebrate Today" (yeah, I didn't read it either).

Now, I'm not sure what someone does during a month dedicated to a band. The obvious would be to play and worship them, reflecting on the contributions they made to popular music, fashion, art and the like.


The dedication says:

Blondie took the music world by storm in the late '70s and early '80s, and the influence of this band and its lead singer Deborah Harry is still being felt today and increasingly recognized with the passage of time.
I only have one Blondie album,

The Platinum Collection

, a 2-disc set with early favorites like "Rip Her To Shreds," "I'm On E," and "X Offender", hits like "Call Me," "Rapture," "Atomic" and more. I consider it pretty essential.

I love the song "Man Overboard", a fun disco number with a terrific synth solo and Deborah singing the drama that "he gave it all for love." I also love the dreamy "Union City Blues" and the later cuts on disc 2.

When I was in New York City this past April, Blondie was everywhere: DJ'd at the clubs that I visited, postered at the stores I shopped at, and on people's clothing. Truth be told, New Yorkers love music that comes from New York, so Madonna, The Ramones, The Strokes, The Notorious B.I.G. were equally ubiquitous.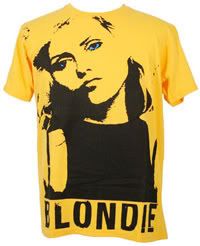 I came back with my own Blondie memorabilia, a Marc Jacobs t-shirt with an iconic portrait of Deborah Harry, all to benefit the Provincetown Art Association. Out of all the 10 available colors, I went with the white.

I learned last week that this was not an exclusive NYC t-shirt -- the store on Fillmore Street has mounds of these t-shirts.
So the Blondie from the 70's and early 80's might be everywhere this year, even in my city.


It's cute, and maybe I'll wear the t-shirt as my nerdy little dedication to a band I like (but not love). Maybe I'd have more enthusiasm for the Official Talking Heads Month or the Official David Bowie Month, neither of which, to my knowledge, exist. Well, at least I now know one method to step-up my fan dedication.